September 2016, The Sign and its Limits
Papers on the linguistic sign and its limits as a conceptual framework for thinking about linguistics and poetics. Papers by researchers from Université Normandie, the CNRS, & the Université Sorbonne, Paris 3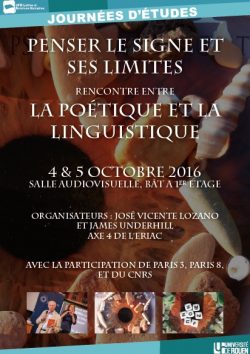 Penser le signe et ses limites rencontre entre la poétique et la linguistique
Date :
4 et 5 octobre 2016
Horaire :
13h 30 -16h 30 et 9h 30 - 16h 30
Lieu :
Salle Audiovisuelle, Bât A 1er Etage
Le signe domine en France où on place le début de la linguistique en 1906 avec les Cours de de la Linguistique Générale de Saussure. Mais une autre linguistique débute avec Wilhelm von Humboldt (1767-1835). Une autre, à Prague en 1926 avec Roman Jakobson et Jan Mukařovský. Et Henri Meschonnic en France pense la poétique comme une linguistique alternative à partir des années 1970. Toutes ces approches critiquent la réduction de la pensée du langage au signe. Ils nous invitent à penser la voix, la créativité du discours, la littérature et la traduction. Mais le signe résiste, et continue à nous permettre de penser le langage. Au lieu d'affronter ces approches, et au lieu de retomber dans des querelles stériles, ou pire, de se renfermer dans nos convictions complaisantes, ces journées d'études devraient nous permettre de réunir linguistes spécialisés dans la pensée du langage, chercheurs au CNRS, poéticiens et traducteurs. La présence de trois langues (français, anglais, et espagnol) devrait assurer la place des langues et la place de la traduction dans nos débats sur le langage et sur ce que le signe nous permet de penser, et ce que la poétique et la traduction nous permettent d'entendre, le rythme, la voix, et le sujet.
https://webtv.univ-rouen.fr/permalink/c1256199aeff98dn7626/
Contact :
jose.vicente-lozano@univ-rouen.fr
james-william.underhill@univ-rouen.fr
Programme PDF : programme-signe
April 2015, Rouen, The Jürgen Trabant Wilhelm von Humboldt Lectures,
9 hours of Online Conference Papers on Wilhelm von Humboldt's thinking on language and worldview
https://webtv.univ-rouen.fr/channels/#2015-wilhelm-von-humboldt-lectures
March 2015, Rouen, Translating Heimat, Home, & Homeland
Online Multilingual Conference Papers on translating the notion of 'home', into Spanish, Catalan, English, German, and Chinese.
Programme
http://eriac.univ-rouen.fr/wp-content/uploads/2015/03/Heimat1.pdf
March 2014, Rouen, Appréhender l'espace
Online Multidisciplinary Conference on Conceptions of Space,
Programme
http://eriac.univ-rouen.fr/wp-content/uploads/2014/03/PROGRAMME.pdf